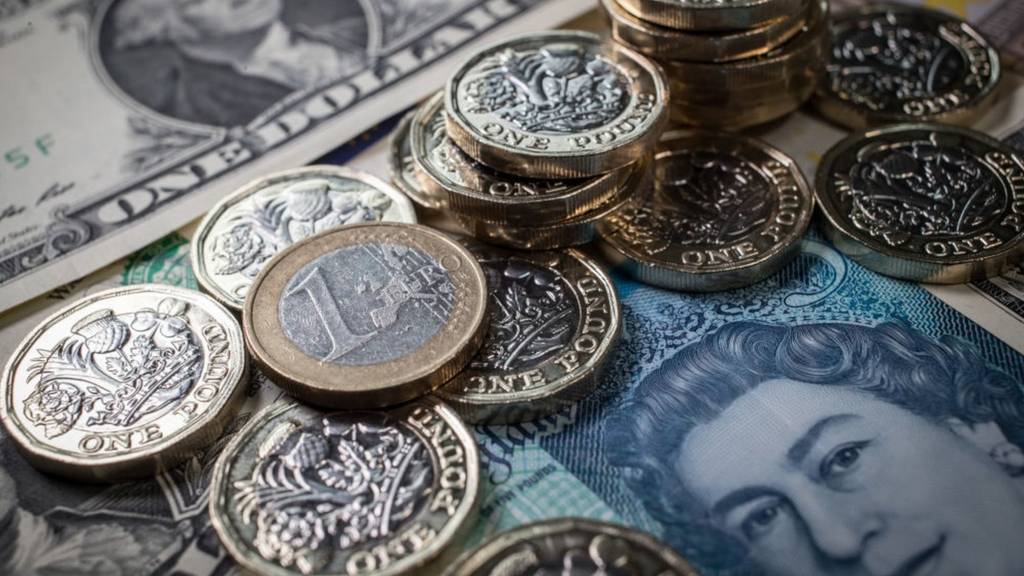 That's all from the Business Live page for another night. Pleas join us again from tomorrow at 06:00.

Coffee not essential for life, Swiss government says

The Swiss government wants to put an end to its emergency stockpile of coffee after declaring that it is "not essential" for human survival.

Switzerland began storing emergency reserves of coffee between World War One and World War Two in preparation for potential shortages.

It continued in subsequent decades to combat shortages sparked by war, natural disasters or epidemics.

It now hopes to end the practice by late 2022. But opposition is mounting.

Pensive poses

Chief political photographer of the Press Association tweets...

Wall Street closes mostly lower

Healthcare stocks pushed Wall Street lower on Thursday as growing fears of a global economic slowdown overcame upbeat economic data, while investors waited for earnings season to build up.

The Dow Jones Industrial Average fell 14.11 points or 0.05% to 26,143.05.

The tech-heavy Nasdaq Composite dropped 16.89 points or 0.21% to 7,947.36.

The broader-based S&P 500 was the exception, rising by a wafer-thin 0.11 points or 0.01% to 2,888.32, but the index saw a lower trading volume than average, analysts said.

Pri-mania as world's largest store opens

Image caption: Crowds ran into the new Primark store carrying balloons

Could Birmingham's super-sized Primark change the way young people feel about department stores?

The irresistible rise of eSports

Michelle Fleury

North America Business Correspondent

David Malpass, who started as the World Bank president on Tuesday, was Donald Trump's pick for the job.

However, in a BBC interview he pushed back against the idea that he will push Trump's America First agenda at the bank, telling the BBC the press had overlooked his employment record and past international development experience.

He said: "I started in development in 1984 with trips to Guatemala and to Honduras, I worked hard in the Reagan administration on development topics, I think that I would bring a lot of skills to the job. I am not sure that was recognised at the beginning, some of the newspaper articles wanted to simply contrast the US administration with other views in the world. That's not really what I am doing; I am trying to bring people together from within the World Bank on a common mission."

Mr Malpass said China needed to boost the standards of its development projects with more debt transparency and better quality projects. He said the World Bank would work with China on this:

"We have common goals, we would like to see the world do well. I want to see China do well, it is the world's second largest economy. Its growing fast and the more progress China can make in growth, that helps countries around the world.

"But I do think, and I want to stress, that their activities need to be transparent in terms of their activities abroad, full disclosure on the types of debt and trying to have good quality, high quality projects abroad. This is something that I think they can work harder on, they can do better on and it is something that we will encourage and work with them on doing."

Boeing chief says firm 'taking time' over software update

Boeing chief executive Dennis Muilenburg has given a speech at the Bush Center in the US following Boeing 737 Max air disasters that killed hundreds.

He says of a software update designed to correct the fault which is suspected to have caused the crashes:

"We are taking the time to make sure that we get it right," adding that the firm had made 96 test flights with updated software.

What if Brexit were revoked?

Nearly six more months to reach the end of the beginning of Brexit. That's six months of can-kicking-down-road opportunities.

EU paves the way for US trade negotiations

European Union countries provisionally agreed the start of formal trade negotiations with the US on Thursday, Reuters reported, a move designed but not guaranteed to smooth strained relations between the world's two largest economies.

The European Commission, which coordinates trade policy for the 28 member European Union, had sought clearance for two negotiating mandates - one to cut tariffs on industrial goods, the other to make it easier for companies to show their products meet EU or US standards.

Tory MP asks PM: Will she resign?

Brexit extension 'relief' for businesses

A six-month extension to Brexit was agreed by European Union leaders on Thursday.

'Diplomatic failure' of Brexit 'mishandling'

Britain is in "limbo" with "deep uncertainly" for businesses and workers over the government's handling of Brexit, says the Labour leader.

Anti-Uber protests flare in Argentina as firm prepares IPO filing

Taxi drivers took to the streets of Buenos Aires on Thursday to protest against Uber, underscoring the challenges the ride-hailing giant faces in the fast-growing Latin American market as it prepares to file a much-anticipated initial public offering, Reuters reports.

Argentina's powerful taxi unions walked in procession through the center of the capital to begin two days of protests against Uber, which faces competition and regulatory hurdles in a region where it often operates in a legal gray area.

What to do with the Brexit stockpiles?

Retail analyst tweets...

Hammond calls for sustainable growth

Chancellor Philip Hammond will call on financial leaders "to ensure sustainable growth and tackling climate change are at the core of their economies" at the upcoming IMF and World Bank meetings in Washington, the Treasury has said.

"Making the first intervention at the new Coalition of Finance Ministersfor Climate Action, he will build on his previous warnings that calls led by younger generations to reverse the existing damage to the environment must be heeded if global economies are to continue to grow and capitalism is to continue to succeed," the Treasury said.

IMF boss: Prolonged Brexit uncertainty would have negative impact on economy

Is it burning - an eternal plane?

Jonathan Amos

Science correspondent, BBC News

Sources have confirmed to the BBC the circumstances surrounding the loss of a British MoD "eternal plane" in Australia.

The mishap involving the solar-powered, propeller-driven Zephyr craft occurred on the 15 March above the Airbus UAV testing site in Wyndham in Western Australia.

The unmanned drone, which holds the all-class record for flight endurance, encountered bad weather about four hours into an ascent that would have taken it to 75,000ft (21km).

The plane, which weighs less than 75kg, couldn't handle the conditions and fell into the Bush.

No-one on the ground was anywhere near the parts that came down, which have now been recovered.

The UK's Ministry of Defence has acquired three Zephyrs from Airbus, and the experimental platforms are undergoing a series of trials at Wyndham.

Eternal planes have attracted the attention of the military because they offer persistence over an operational area, either to take pictures or to relay communications.

Satellites, in contrast, may offer only intermittent coverage as they pass over the horizon.

Engineers in Wyndham are understood to view the accident as part of the learning curve of operating the Zephyrs, and will be testing again using another vehicle shortly.

Contrary to reports in the Australian press, Facebook, who've expressed an interest in eternal planes for broadband delivery, had nothing to do with the craft lost in March.

Barclays' board has said it "strongly opposes" moves by activist investor Edward Bramson to become a director, saying he would be "a disruptive and uncollaborative influence on the board."

Shareholders will vote on his appointment at Barclays' AGM on 2 May. Mr Bramson wants to shrink Barclays investment bank.

The Barclays board said: "The board recognises that Barclays does not yet perform at the level at which it should. We are highly focused on business execution to deliver returns above our cost of equity. Another strategic overhaul is not what Barclays needs right now."

Pensioners to protest at HSBC's annual meeting

Copyright: Sharon McGeough-Adams

Image caption: Sharon McGeough-Adams will be campaigning at HSBC's annual general meeting

Sharon McGeough-Adams faces losing £200 a month from her HSBC pension and will protest at the bank's annual general meeting on Friday to demand changes.

Having worked for the UK's biggest bank for more than 37 years, she says it is money that could be put aside for other necessities, such as fuel.

The loss is caused by the bank's move to reduce pension payments when the recipient receives state pension.

HSBC has said it would cost £450m to stop the practice for future payments.